Depending on the dentist, dental crowns are made from porcelain or zirconia. These materials are fused to metals, and they can be made to look remarkably like natural teeth. However, porcelain crowns are more expensive than zirconia. They are also more susceptible to breakage, and you may find yourself having to have them repaired.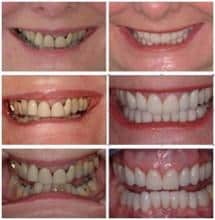 Dental Crowns
Zirconia
Using Zirconia crowns is a modern dental solution that can give patients beauty, strength, and durability. It is a versatile material that can be molded into realistic tooth shapes. It has a long history and is known for its effectiveness.
While dental crowns are a fantastic way to restore teeth, there is always a risk of dental crowns causing an abscess. 
Zirconia crowns can be used on any tooth, but they are not always the best choice. If you have a lot of grinding in your teeth, for example, then you may want to consider using a monolithic zirconia crown. This material is strong, and doesn't crack, but it doesn't have as much translucency as other types.
Zirconia dental crowns are made by a laboratory that uses a glass-ionomer resin dental cement. This material is biocompatible and is unlikely to cause an allergic reaction. It is also a viable choice if you have metal allergies.
Porcelain Crowns
Getting a porcelain crown is an ideal way to improve the look of your smile. It also increases your oral health. A porcelain crown is also a good option if you have teeth that are cracked, broken, or decayed.
Unlike a veneer, a porcelain crown is a full cap covering the tooth's entire exterior. It also protects the tooth's interior from decay.
Porcelain crowns are also affordable. The cost of getting a porcelain crown varies depending on the state of your teeth and the size of the crown. You may also have to pay for a metal base.
A porcelain crown can last up to ten years. However, it is important to keep your teeth healthy to prolong its service life. A regular check-up is recommended to keep your teeth in tip-top shape.
Porcelain crowns are made to look like real teeth. They come in assorted colors to match your tooth color. They are also durable. Getting a porcelain crown is a painless procedure. However, during recovery, you should be prepared to experience sensitivity when biting and chewing.
Metal Crowns
Metal crowns are not as popular as they used to be, as zirconia crowns have more advantages, however, occasionally a metal crown may still be recommended for back molars. Your dentist will be able to explain the best options for you.
Porcelain or ceramic crowns are a more popular option than metal-based crowns, and they have the benefit of being able to look like your natural teeth. This can improve your self-esteem. 
Porcelain crowns are a desirable choice for people with metal allergies. 
Porcelain Fused to Metal Crowns
Compared to porcelain crowns, porcelain fused to metal crowns are more durable. They have been in use for decades and have been the gold standard for damaged teeth. They are exceptionally durable and have a strong visual appeal. These restorations are also affordable.
Porcelain fused to metal crowns is commonly used to restore teeth that have been damaged by decay. This type of crown also is a great option for bridges. They have a high strength level and are ideal for posterior teeth. They can be color-matched to your surrounding teeth.
The metal substructure of a PFM crown can sometimes show through opaque porcelain. This may cause a dark line at the gumline. This can also be a sign of gum disease.
Porcelain fused to metallic crowns can last for several years. They can withstand significant chewing forces. They are also an intelligent choice for front and back teeth. They are often used in long-span bridges. They are also extremely popular because of their aesthetic appeal.
If you have tooth damage, you will most like require a root canal before dental crowns can be placed.  A dental professional can help you determine which treatment is right for you.
Casa Dental has dental offices in Toronto and Mississauga. Contact us today to schedule your dental appointment.